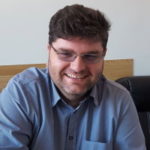 Prof.dr.habil.ing. Marian BARBU
E-mail: marian.barbu@ugal.ro
Brief Biography of Marian Barbu
Dr. Marian BARBU, born in 1978, received the Ph.D. degree in Automation from "Dunarea de Jos" University of Galati, Romania, in 2006, and defended his Habilitation Thesis in System Engineering at the same university in 2016. He was a member of the Dynamic Systems and Simulation Laboratory, Technical University of Crete, Greece as a Young Researcher in a Research Training Network during 2001-2002. He was Invited Professor at Department of Telecommunication and System Engineering, Universitad Autonoma de Barcelona, Spain during 2015-2016 and 2017. Currently he is Dean of the Faculty of Automation, Computers, Electrical Engineering and Electronics and Professor in the Department of Automation and Electrical Engineering, "Dunarea de Jos" University of Galati.
His topic of interest includes: Modelling and Control of Biotechnological Systems and Renewable Energy Systems, Nonlinear Systems, Robust and Intelligent Control. He is author of over 120 journal and conference papers, 3 textbooks, 6 book chapters and 4 manuals. He received the Best Paper Award for Young Researcher at Int. Conf. on System Theory, Control and Computing, 2013 and the Best Paper Award at Int. Conf. A View Point Upon the Sustainable Management of Water Resorces in The Balkan Area, 2010.
Dr. Marian Barbu is an active member of IEEE and IEEE Control Systems Society for 15 years, and Senior Member since 2020. He is member of IEEE IES Technical Committee on Factory Automation and a member of IFAC Technical Committee 8.3 – Modelling and Control of Environmental Systems. He is also the President of Control Systems, Computers and Electrical Engineering Society from Galaţi. He is an evaluator member of the Romanian Agency for Quality Assurance in Higher Education and reviewer for journals: Journal of Process Control, International Journal of Robust and Nonlinear Control, International Journal and Production Research, Control & Cybernetics, Chemical Engineering Journal, Journal of Chemical Technology & Biotechnology, Biochemical Engineering Journal, Energies, BioResources.
He has expertise in academic management (dean, member of university senate, many councils and committees) and in project management, as director or responsible of several research grants and educational projects.
Involvement in CSS sponsored conferences
General Chair of ICSTCC 2022;
Vice-Chair of the International Program Committee of ICSTCC 2018-2021;
Organizing Committee Chair of ICSTCC 2015;
Member of the IPC/OC of ICSTCC, 2012-2017;
Member of the IPC of International Conference on Systems and Control, 2018
Reviewer for conferences: CDC, ACC, CCTA, ECC, MED.
Other Conference related activities
General Chair of IEEE 28th International Conference on Emerging Technologies and Factory Automation (ETFA), 2023 (sponsorized by IEEE Industrial Electronics Society);
Chair of the Track 5 – Industrial Control in IEEE 27th International Conference on Emerging Technologies and Factory Automation (ETFA), 2022;
Associate Editor-in-Chief of the System Theory, Control and Computing Journal;
Member of the Program Committee for the Track: Industrial Control of IEEE Conference on Emerging Technologies & Factory Automation: 2013 – 2020;
Member of IPC of International Symposium on Electrical and Electronics Engineering, 2013, 2017, 2019 and 2021 and of International Carpathian Control Conference, 2017;
Reviewer for conferences: IFAC World Congress, IFAC Symposiums DYCOPS and CAB, IWA World Water Congress.
If you are interested in doing a PhD in System Engineering please contact me at: Marian.Barbu@ugal.ro.