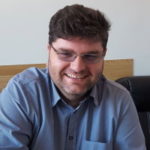 Prof.dr.habil.ing. Marian BARBU
E-mail: marian.barbu@ugal.ro
MARIAN BARBU was born in Galaţi, Romania, in 1978. He received the B.S., M.S., and Ph.D. degrees from "Dunărea de Jos" University of Galaţi, in 2001, 2002, and 2006, respectively, all in control engineering.
He is a Full Professor at "Dunarea de Jos" University of Galaţi. In 2005 was a Young Researcher at Technical University of Crete, Greece, and in 2015-2016 and in 2017 was Invited Professor at Universitat Autonoma de Barcelona, Spain. His research interest is focused on modeling and control of energy and environmental systems, having results published in top journals such as: ISA Transactions; Water Research; Chemical Engineering Journal; Journal of Cleaner Production; Industrial &Engineering Chemistry Research. Prof. Marian Barbu is a Senior Member of IEEE and a member of the IFAC TC8.3. Modelling and Control of Environmental Systems.
If you are interested in doing a PhD in System Engineering please contact me at: Marian.Barbu@ugal.ro.